Metropolitan Thames Valley Housing (MTVH) has partnered with Countryside to deliver at least 2,482 homes across 17 sites.
The development will form part of the regeneration of the Clapham Park Estate, while the properties will comprise of family homes, apartments and retirement homes.
Some 53% of the homes will apparently be affordable, while the development will include a community centre, two parks, a market square, commercial and retail space, as well as a district heating system.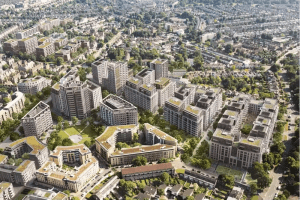 Guy Burnett, executive director of development at MTVH, said: "This regeneration will not only see the creation of new, modern, well-designed homes for thousands of residents, but also the development of high-quality amenities and services.
"Improving the well-being and environment for local people in this way will make a very real difference to the community."
Councillor Danny Adilypour, Lambeth's deputy leader (sustainable growth and new homes), welcomed the development, saying the borough desperately needed more homes given the national failure to build enough properties.
He said: "This failure means more than 3,200 Lambeth households are living in temporary accommodation, because of the huge gap between the level of demand for accommodation and the housing supply."
"So, we are delighted to have been able to help make this project happen, it will help make a real difference to people's lives."
There will be cycle parking, electric vehicle charging points and public realm enhancements.
Meanwhile some £1 million will go towards placemaking and community-building activities.
Mike Woolliscroft, co-interim chief executive at Countryside, said: "With our focus on our differentiated partnerships model and proven expertise in creating mixed-tenure communities, this joint venture further underscores the company's good growth potential and strong platform to deliver high-quality and sustainable developments for the benefit of local residents."
The Metropolitan Thames Valley Housing is currently dealing with the headache of a group of more than 20 residents at East Ferry Road Estate on the Isle of Dogs who are withholding their service charge, saying there's a lack of transparency around how their money is being spent.
The housing association has been told to provide a comprehensive set of accounts covering the past seven years and answer questions about what the payments have been spent on.