A major landlord in Florida is cracking down on unvaccinated tenants by requiring proof of vaccinations for new and renewing tenants.
He is also terminating the contracts of employees working at the buildings who won't show proof that they've had at least one vaccination.
The landlord is 80-year-old Santiago A. Alvarez, who owns eight apartment buildings in Florida's Broward and Miami-Dade counties.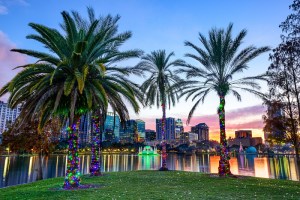 He told The Post: "You don't want to get vaccinated? You have to move. And if you don't move, one must move forward with eviction."
Alvarez added: "It very much upsets me that my employees are exposed to [COVID-19] all days of the week because there is someone who does not want to get vaccinated.
"If you don't want to get vaccinated, I have the obligation and the duty to protect my workers and tenants."
The policy has been in place since August, though it flies in the face of the vaccine passport ban from Florida governor Ron DeSantis.
However Alvarez argued that tenants are not customers or patrons and therefore the ban doesn't apply.
Tenant Jasmine Irby, 28, filed a complaint with the Florida Department of Agriculture and Consumer Services demanding that she be allowed to renew her lease "without having to disclose my personal health information."
A letter had been fastened her door saying: "As of August 15th, all new tenants must show proof of vaccination before moving in … Existing tenants must show proof of vaccination before leases are renewed."
With neither tenants nor Alvarez backing down, it could come down to the courts to decide whether requiring vaccinations for tenancies is permitted.
In Florida, a Republican voting state in the last two Presidential elections, only 54.6% of the population are fully vaccinated, according to information from Our World in Data.