A lift in a tower block in Toronto, Canada, was found covered in blood over the weekend.
The Toronto Police Service reported "a large quantity of blood was located in the hallways and elevator" on Sunday, though no victims were found.
The incident occurred in Toronto's southern region overlooking Lake Ontario, around Lake Shore Boulevard West and York Street.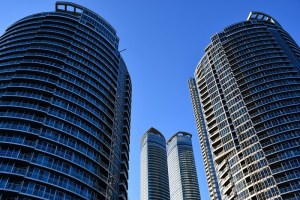 In response to the news locals have speculated that it took place at the ICE Condominium complex, which has a large quantity of Airbnbs and has become notorious for crimes like shootings and stabbings.
It's often described as a 'ghost hotel' due to the quantity of short-term rentals in the building. Indeed, it's seen as an example of why short-term rentals shouldn't be allowed to dominate significant areas of cities.
Some also took to social media to make dark parallels to the bloody lift scene in Stanley Kubrick's 1980 film, The Shining.
The Toronto police has appealed for witnesses, and say they are concerned for the well-being of a person that's potentially injured.