Kunal Sawhney is chief executive of Kalkine Group
Inflation is not inherently bad. In the first place, it is a product of rising wages. In the developed world of today, where goods, capital and humans can move freely across borders, the competitive market does not allow any single supplier to wield monopolistic powers. And hence, not supply, but demand forces are, more often than not, the trigger behind rising prices.
In Canada, or for that matter in the US, Australia and most other developed as well as emerging nations, inflation has emerged as one of the biggest byproducts of the pandemic. Nearly everything, from food to shelter, has become costlier, and the purchasing power of households may be shrinking at pace.
The question is what fueled this inflation? A few goods like semiconductor chips are in short supply, and hence, cars and electronic goods have become pricier. But what about food products or houses? Is the inventory so low of these goods that supply is unable to meet demand? No. In fact, the cause may be insatiable demand.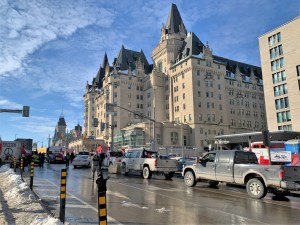 For now, things may look calmer in Ottawa after the law enforcement agencies regained control of the streets from protesting truckers. Dozens of protestors were arrested during the course of the protest, which started against vaccine mandates but eventually saw many venting their anger against the policy stance of the government. But was this just the start? Are there other troubles in the making?
Canadians had cash to burn
Amid a pandemic that brought businesses to a screeching halt, there were reports that Canadians were sitting on a cash pile. In fact, despite shuttered businesses and job losses, there was enough cash in the bank accounts of families, thanks to the federal government's policy actions including the CEWS and CERS.
A few economists like Benjamin Tal of CIBC anticipated high inflation as a result of surplus money available in the Canadian economy. And here it is. Inflation in January 2022 hit 5.1 per cent, the steepest in almost three decades.
It was pretty much known to everyone that excess money in the economy has an expiry date. The federal government will eventually have to exercise fiscal prudence so that future generations are not burdened by debt, and the Bank of Canada will also have to close its taps by hiking the interest rate.
The reversal of fiscal and monetary policies that were kept ultra-loose in the wake of the pandemic would naturally deal a strong blow to overall liquidity. Inflation, which may not have been pinching Canadians initially, could become a big socio-political concern in the coming months and years.
House inflation outshines others
House prices in Canada are rising as if the economy is growing in leaps and bounds. Data by the Canadian Real Estate Association (CREA) suggests that the average house price last month was C$748,450.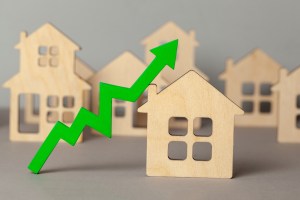 A few housing market experts say that the average price may be misleading, and hence the House Price Index (HPI) is a relatively better indicator of the market. The HPI in January grew by a whopping 28 per cent on an annual basis, clearly suggesting that no matter Toronto or small communities, prices are sky-high across Canada, and they may outshine inflation on other goods and services.
But is the Canadian economy also shining so brightly? Last year, between April and June, the economy, in fact, contracted, according to Statistics Canada.
The growth in the following quarter was 1.3 per cent, but it was owed in large part to consumer spending on semi-durable goods, and services, Statistics Canada data suggests. The economy may not be in its finest phases, but the housing market definitely is in one of its best, if not for the buyer, at least for the seller.
The ones pushed out of the market
For now, it is just a small section of households comprising of low-income families, single parents and new immigrants, that is feeling the heat. These aren't buyers that can compete in the hot market where high-income families can bid tens of thousands of dollars extra to acquire a housing asset.
If it weren't for these high-income families, then the deep-pocketed investors that can buy a complete neighborhood of suburban homes for rental income, might outbid them. Ministers and high-ranking officials, including Chrystia Freeland and Tiff Macklem, have acknowledged there are vulnerabilities in the housing market with regards to this section. But this acknowledgment hasn't turned into any concrete action plan that could stem the unabated growth of house prices.
If there was something that made arguably more noise over the past few weeks than the soaring house prices and the pain of buyers left out of the market, it was the protest by truckers in Ottawa. Though the protestors' key concern was vaccination mandates, it can be assumed that a slew of factors could have prompted a protest of this kind. The protestors are gone now but the sentiment, the backlash, the disillusionment, may linger on.
The government invoked the Emergencies Act to rein in the protestors, but the economy struggles with inflation and slow job creation. As a matter of fact, the economy lost 200,000 jobs last month.
Possible trouble in the making
In June last year, a limited outrage in Toronto made news. No, it wasn't related to vaccine mandates or anything political, nor did it make global headlines the way the truckers' protest did, but it was fueled by anger against real estate investor Core Development's proposal to invest C$1 billion in multiple provinces to buy thousands of homes for rental income.
It is pertinent to recall here that the average house price peaked in March last year and then entered a subdued phase over the next few months, before rising again to record levels. Today, the price sits at an all-time high level, and this could go into infuriating the section that seeks an abode, but their bids are just too humble.
This section might take a leaf out of the truckers' protest to put pressure on the government to do something concrete that can genuinely calm their frustration.
Inflation is not inherently bad. Had the ongoing rise in prices of food and shelter been a product of high economic growth and rising wages, there would have been nothing to be worried about.
But the high prices of houses today seem to be a product of reckless, speculative bidding by people that can. And as a result, people that can't are increasingly being sidelined.
Such marginalisation of a section of society is never in the socio-economic interest. It may be high time for the government and other policymakers to rein in soaring house prices. Else, the truckers' protest could just be the beginning of a broader socio-political disturbance in one of the world's most advanced economies.