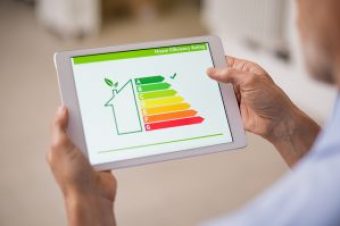 New data from Spring's MoveSmart platform, utilising data from Propalt, has revealed the areas where energy performance certificate (EPC) ratings are at their lowest.
Rented out homes in Cleethorpes (Lincolnshire), Barrow-in-Furness (Cumbria), Westcliff-on-Sea (Essex), Grimsby (Lincolnshire) and Accrington (Lancashire) have the worst ratings in the UK. Of the 683 landlord-owned homes in Cleethorpes, 80% have a D-G rating; while in Barrow-in-Furness 1,067 (79%) rented properties have the lower ratings. Seventy-two percent of Westcliff-on-Sea and Grimsby rental homes have D-G ratings, while Accrington stands at 71%, meaning costly works for landlords to bring their homes up to the required standards.
At a time when energy prices are soaring and tenants are feeling the cost-of-living crisis, the Government has advised landlords across England and Wales that by 2025 all rental properties will need an EPC rating of 'C' or above. An EPC rating gives detailed information about property's energy efficiency and carbon dioxide emissions. Whenever a property is built, sold or rented out in England and Wales, property developers and homeowners need to have an EPC ratings report carried out by an accredited assessor. However, research reveals that only 53% of all UK properties have a registered EPC and 58% of those with a registered EPC are rated between categories D-G, which means they are more expensive to run and not as environmentally friendly.
Research from Habito suggests costs of up to £6,000 to upgrade a one-bedroom property from rating D-C, rising significantly for larger homes. So, for landlords who may not have funds to spend money to bring their homes up to spec, offloading their properties to Spring may be a quicker route to sell. For landlords looking to move, Spring can offer up to 93% of the properties' value, with completion offered in as little as a few weeks. Much shorter, than the UK's average completion time that Zoopla recently recorded as taking up to five and a half months on average.
Cormac Henderson, CEO of Spring, commented: "A staggering amount of homes in the UK are not up to scratch in terms of energy performance, not only making them expensive to run but having a significant negative impact on the environment at a time when the climate crisis is front and centre of the global agenda. There appears to be a trend with a higher proportion of properties in the north having poorer energy efficiency."
"With many landlords already facing rising costs, many of which are passed onto tenants, they will have a decision to make as to whether the cost of upgrading their properties is worth it or consider exiting the market as many have suggested."
Table of results
The data used to compile the lists with the areas that have the most and least D-G EPC Rating properties owned by landlords is based on areas where there are more than 500 landlord owned properties.
Areas with the most landlord-owned properties with a D-G EPC rating:
| | | | |
| --- | --- | --- | --- |
| Town/Area | Number of D-G EPC Rating, landlord owned properties | Total number of landlord owned properties | % of D-G EPC Ratings owned by landlords |
| Cleethorpes, North East Lincolnshire | 544 | 683 | 80% |
| Barrow-in-Furness, Cumbria | 1,067 | 1,351 | 79% |
| Westcliff-on-Sea, Essex | 945 | 1,314 | 72% |
| Grimsby, North East Lincolnshire | 1,333 | 1,857 | 72% |
| Accrington, Lancashire | 553 | 780 | 71% |
| Southend-on-Sea, Essex | 1,182 | 1,679 | 70% |
| Kingston-Upon-Hull, East Riding of Yorkshire | 4,628 | 6,703 | 69% |
| Blackpool, Lancashire | 2,112 | 3,064 | 69% |
| Bootle, Merseyside | 763 | 1,136 | 67% |
| Darwen, Lancashire | 532 | 797 | 67% |
| Darlington, County Durham | 929 | 1,397 | 66% |
| Edmonton, North London | 1,417 | 2,165 | 65% |
| Halifax, West Yorkshire | 1,103 | 1,548 | 65% |
| Hove, East Sussex | 3,246 | 5,041 | 64% |
| Lytham St Annes, Lancashire | 981 | 1,525 | 64% |
Areas with the least landlord-owned properties with a D-G EPC rating:
| | | | |
| --- | --- | --- | --- |
| Town/Area | Number of D-G EPC Rating, landlord owned properties | Total number of landlord owned properties | % of D-G EPC Ratings owned by landlords |
| Wembley, North West London | 997 | 4,811 | 23% |
| Aylesbury, Buckinghamshire | 611 | 2,588 | 24% |
| Milton Keynes, Buckinghamshire | 671 | 2,838 | 24% |
| Cambridge, Cambridgeshire | 1,051 | 3,621 | 29% |
| Salford, Greater Manchester | 2,129 | 6,796 | 31% |
| Rochester, Kent | 1,304 | 4,055 | 32% |
| Telford, Shropshire | 875 | 2,665 | 33% |
| Chelmsford, Essex | 839 | 2,474 | 34% |
| Bromsgrove, Kent | 583 | 1,714 | 34% |
| Harlow, Essex | 597 | 1,738 | 34% |
| Hayes, West London | 589 | 1,629 | 36% |
| Acton, West London | 1,056 | 2,765 | 38% |
| London (overall) | 64,533 | 162,122 | 40% |
| Poole, Dorset | 915 | 2,278 | 40% |
| Colchester, Essex | 739 | 1,839 | 40% |