Landlords in Birmingham have the toughest time with problem tenants, as landlords in the region were most likely to go to the courts to turf out their tenants.
Birmingham is currently in a regeneration phase, as the second city is currently hosting the Commonwealth Games, though it seems some landlords are struggling to take advantage of this investment due to bad tenants.
Investors typically file repossession orders at county courts when tenants have fallen into rental arrears but refuse to leave.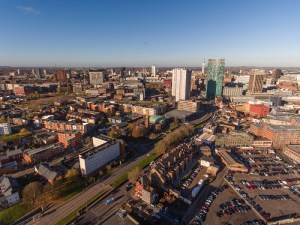 The research from Barrows and Forrester has found that in the first quarter of this year there were 3,737 rental property repossession orders granted in England and Wales.
James Forrester, managing director of Barrows and Forrester, said: "As the nation's second city, demand for rental homes in Birmingham is high and this demand is only increasing as more and more people choose to live and work within the city.
"Birmingham is undergoing a phase of extensive regeneration, bringing new business to Birmingham, not to mention the city hosting the current Commonwealth Games, so there are plenty of high quality applicants looking for accommodation at present.
"With the government doing their best to deter buy-to-let investment by dampening the financial returns on offer, Birmingham's landlords can ill afford to have their home occupied by a tenant who is failing to pay their way, so it's understandable that a notable number have decided to clean house and remove problem tenants so far this year.
"Given how severe the nation's current cost of living crisis has become and how long it's expected to last for, we would be naive not to assume that this number may continue to climb.
"Of course, the move to repossess a rental property will always be the last resort for any landlord and the vast, vast majority will always manage to come to a suitable agreement with their tenant prior to this requirement."
Across England and Wales some 27% of repossessions were targeted at tenants in London, 15% in the South East, and 11% in the North West.
However, at local level, it's Birmingham where landlords have been most active with regard to rental property repossessions.
High numbers of repossessions have also been reported in Bournemouth, Christchurch & Poole (60), Brent (55), Greenwich (55), Ealing (54), and Newham (48).
While these locations reported a large number of landlord repossessions, there are 19 locations that reported absolutely no repossessions in Q1 2020. These include South Norfolk, Monmouthshire, Harlow, Guildford, and South Staffordshire.
James Forrester reasoned that when you consider that there are around 4.4 million rented households in England the number of rental homes being repossessed is really very small.