Michael Gove has halted funding to Rochdale Boroughwide Housing after two-year-old child Awaab Ishak died from mould exposure in one of its properties.
And Gove warned that other housing providers will also be deprived of money if they fall short of what's required.
The housing secretary has blocked £1m of funding to the housing association, meaning it won't receive money from the Affordable Home Programme or any new contracts until there's evidence that it's made substantial improvements to its housing stock.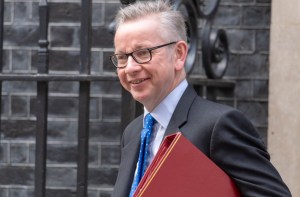 Gove said: "RBH failed its tenants so it will not receive a penny of additional taxpayers' money for new housing until it gets its act together and does right by tenants.
"Let this be a warning to other housing providers who are ignoring complaints and failing in their obligations to tenants. We will not hesitate to act.
"Everyone deserves the right to live in safe, decent home and this government will always act to protect tenants."
At the same time the government has allocated £14 million to seven areas where it's thought conditions in privately rented homes aren't up to scratch.
This includes £2.3 million for Greater Manchester – including Rochdale and surrounding councils - to increase the use of fines where a landlord is found to have committed an offence.
There's £678,000 for Leeds to use behavioural science to change culture among landlords, improving knowledge and skills
And £1.14 million is being allocated for Cornwall to create a database of private rented accommodation in the area and record standards to target better enforcement action.
The Regulator of Social Housing has demanded evidence from all housing association and local authority landlords this week, showing they are identifying and dealing with damp and mould issues in their homes.
Meanwhile the Housing Ombudsman is set to be handed new powers by The Social Housing Regulation Bill, currently making its way through parliament. This will enable authorities to enter properties with only 48 hours' notice and make emergency repairs where there is a serious risk to tenants and the landlord has failed to act, with landlords footing the bill.
Nathan Emerson, chief executive of Propertymark, said: "A lack of enforcement and the low number of private rented property inspections by local authorities undermines the current regulatory regime. It's good news that the Secretary of State is allocating further funding in this area, something we have repeatedly called for.
"Qualified letting agents are well placed to support local authorities in maintaining standards. Independent landlords can tap into their knowledge and understanding of the latest legal requirements for the sector to ensure they comply."