Despite the apparent 'death' of the high street and the growth of online retail, nearly half (46%) of potential home buyers said having a vibrant high street was important to them.
Over a quarter (27%) of respondents said they would pay a premium if there was a great local high street nearby, a survey from lender Market Finance Solutions has found.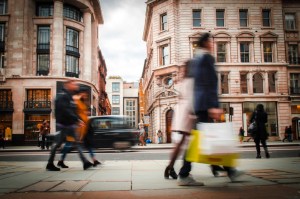 Paresh Raja, chief executive of MFS, said: "With lockdowns, travel restrictions, social distancing regulations and now a cost-of-living crisis, local hight streets have had a very difficult two-and-a-half years. Indeed, many thought these challenges would be the death of the local high street – but our research shows that there is plenty of life in them yet.
"Even with the rise of online shopping and so many delivery services, it's clear that a vibrant local high street is really important in many people's decisions about where to live. A sense of community and greater convenience remain of great value – over 14 million Britons will pay more to live near to a vibrant local high street.
"But ensuring the long-term prosperity of the UK's high streets will take more than consumer support. People want to see the government up its support of local businesses, while there is an opportunity for investors to help fuel the regeneration of derelict venues, helping create new commercial and semi-commercial premises on local high streets nationwide."
Half (50%) stated they prefer independent shops or hospitality venues over chains, while the vast majority (71%) think Liz Truss and the new-look government should do more to support local high street businesses.