Northern Ireland is the leading region for annual house price inflation for the second month in a row, where prices have risen by 15.2% annually, Halifax's House Price Index shows.
Prices in the country now stand at £187,833, while the increases are being attributed to a lack of supply.
Nationally prices rose by 1.8% between May and June.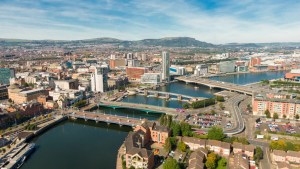 Samuel Dickey, RICS Northern Ireland residential property spokesman, says: "Demand is still outstripping supply, a pattern that we've seen for many months now.
"In saying that, more vendors do seem to be coming to the market, and it's encouraging to see surveyors expecting a rise in sales.
"More stock will assist in addressing the persistent issue of limited supply for prospective buyers.
"This limited stock has been maintaining strong house prices across all categories."
Elsewhere in the UK Wales is the second biggest growth area, with a price rise of 14.3%, bringing the average property price to £219,281.
After that comes the South West of England (14.2%) and Scotland (9.9%).
The overall rate of growth is currently 13%.
Sundeep Patel, director of sales at specialist lender, Together, said: "The overall rate seems to be slowing down- even if only slightly. However, activity within the property market continues to prevail despite the cost-of-living crisis and inflationary pressures.
"The property market is expected to slow further this summer as households continue to contend with rising costs and other spending priorities, which will likely stall some property purchases.
"The Bank of England is expected to increase interest rates come August, creating an even more sluggish market. However, this continued challenging economic outlook could lead to a housing market correction in the coming months."
Sarah Coles, senior personal finance analyst, Hargreaves Lansdown, said this represents continued bad news for renters.
She said: "The sheer pace of price rises are impossible to match with super-fast saving.
"Since the beginning of 2022, house prices have risen £18,849, so just to stand still, renters saving for a 10% deposit would have had to add almost £1,900 to their savings pot.
"Given the fact that hikes in the cost of everything from food to fuel have been unbearably painful since the start of the year, this is an impossible challenge.
"Rising prices may make homeowners feel wealthier, but they're pushing renters further into the mire. Almost a fifth of people rent privately (19%), and a similar number live in social rented housing (17%), so more than a third of people are facing unbearable pressure as prices rise."