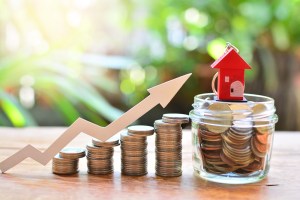 Demand for buying new homes has dropped by 15% in the last two weeks, according to Rightmove, in the wake of the mini-Budget that has pushed up mortgage borrowing costs.
The property portal said that, while buyer demand was still 20% higher than in the same period in 2019, it had fallen 15% compared to the same two weeks in 2021.
Despite this, home sellers continued to push asking prices higher over the month to reach a new record high of £371,158.
Looking at typical asking prices, Rightmove said that the average UK home gained 0.9% or £3,998 in the last month. This was less than the five-year average for October of 1.2%.
Year-on-year, prices increased by 7.8%, down from 8.7% in September.
First-time buyers appeared to be hit the hardest by the economic turmoil sparked by the government's announcement, which has sent mortgage rates soaring.
Among first-time buyers, demand for buying homes fell 21% compared to 2021.
Despite the wider uncertainty, the majority of property sales and purchases that were agreed before the mini-Budget on 23 September are still going ahead, Rightmove said.
Only 3.1% of sales agreed have fallen through in the two weeks since the mini-budget, in line with the 3% figure over the same two weeks during 2019.
Tim Bannister, Rightmove's director of property science, said: "The vast majority of buyers who had already agreed their purchase are still going ahead.
"Some aspiring first-time buyers will have had their plans dashed by the sudden nature of the mortgage rate rises, and now face a difficult situation with rents also rising, and a shortage of available homes to rent."
"It's understandable that some new movers who have the option to wait, may want a clearer view than they're getting right now before they proceed with a major purchase such as a home.
Rightmove said there were signs that prices were starting to weaken in some areas of the country and across certain property types.
The average price of a 'second stepper' home - which refers to those who are not purchasing their first or what is likely to be their last property - fell by 0.2% in the last month, and the typical home in the North West of England saw its value decrease by 0.6%.
Bannister added: "With uncertainty over where mortgage interest rates will go, those who can still afford to proceed may decide that waiting too long could come at an even higher cost than taking action to move now, especially if the level of demand continues to outstrip supply and supports prices."