There's a growing need for housebuilders to future proof homes so they can stay cool in hot weather, after the UK recorded temperatures over 40°C.
Homes can be adapted with white surfaces to reflect heat, shutters or motorised blinds can be installed as the norm, while strategically placed trees can be planted to provide shade.
Insulation can also help to regulate the temperature, similar to how it keeps heat in during the winter.
Glassy tower blocks can be better adapted to deal with the heat, by using louvre windows. These work by having horizontal glass slides that can be tilted open and shut depending on what's required.
Some glass buildings can, in effect, become giant greenhouses that trap heat, much to the discomfort of those working or living in them.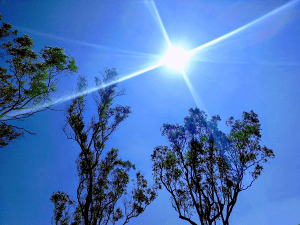 James Knight, of design and engineering consultancy Arcadis, told The Guardian: "The housing industry is quite traditional and old-fashioned in adapting and there are a lot of challenges that we need to deal with around zero-carbon and future-proofing.
"[In the Mediterranean] people leave their homes shuttered all day, with the windows open behind. How many of us leave the curtains closed on south and west-facing windows when we go to work on a sunny day?"
As global warming continues to have an impact heatwave in UK summers could become the new normal – while a reliance on air conditioners to keep homes cool could worsen the UK's carbon footprint if that's relief upon.
Public body the Climate Change Committee warned in a report last year that more than 1.5 million homes due to be built in the next five years aren't resistant to high temperatures.
Lady Brown, the Climate Change Committee's deputy chair, said: "We've been telling the government for over 10 years that we are nothing like well enough prepared in the UK for the really hot weather we are seeing now."
Individuals looking to keep homes cool can close windows and blinds to keep out direct sunlight, as well as open up doors and windows in the evening.
Bob Ward at the London School of Economics, is hopeful the issue of heatwaves will no longer be underestimated after this summer.
He said: "More action is needed to inform the public about the dangers created by heatwave conditions.
"One part of the solution could be to name heatwaves in the same way that winter storms are now given names to gain the attention of the public."