3D printed houses are the most anticipated 3D printed innovation, as they are seen as a potential answer to a lack of affordable housing.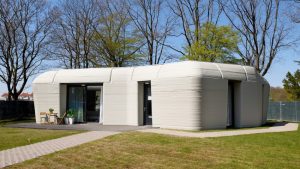 There are currently 76,000 monthly Google searches for 3D printed homes, suggesting this is an area that people are interested in, research from Hubs.com found.
The innovation is seen as a low cost, time-saving way of building a house, though on the flipside there are question marks over finding high quality construction material to match traditional materials.
2021 saw the first 3D printed house sale take place in Eindhoven, Netherlands, and developers in North America are also interested.
The small US town of Pulaski, Virginia, will add 200 such houses over the next five years using a technique that involves a massive 19-ton robotic printer.
This could act as something of a test case for this technology.
In the last 12 months, Google searches for 'what is a 3D printed home' have risen significantly by 250%, while 'where can I buy a 3D printed house' is up 70%.
Filemon Schoffer, cofounder & chief operating officer from Hubs.com said: "Overall, we expect to see more signs of growth in 3D printing in 2022 and beyond.
"Enhanced automation, scalable quality controls, advances in interoperability, reduced material and processing costs and further industry consolidation, among other key factors, will help 3D printing become the robust industrial manufacturing process that befits its massive potential."