A new method used to calculate EPC (Energy Performance Certificate) ratings of non-domestic buildings could impact the value of commercial properties.
That's according to Fisher German, a provider of multi-disciplinary property services.
The Simplified Building Energy Model (SBEM) 6.1 update incorporates a number of changes to the EPC assessment methodology - most significantly on the 'carbon emission factors' associated with a building's energy use and, it is already having a significant impact on the performance ratings of buildings.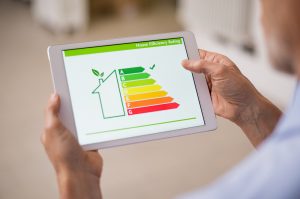 A survey of commercial buildings found that 60% of buildings using gas power worsened by at least one band, while 22% of electric powered properties improved by two bands.
Tom Beeley, Fisher German's Delivering Net Zero lead, said: "The new assessment takes into account the fact that there has been a 75% reduction in electricity's carbon emissions since 2013 - when the software was last updated. This means that buildings heated by electricity will benefit from an improved EPC rating, as a result of the new software.
"Conversely, we are seeing the EPC rating of some gas-heated buildings deteriorate. An indicative sample, assessed using the new methodology, saw some buildings' ratings move from an 'E' to a 'G' rating'."
Minimum Energy Efficiency Standards (MEES) regulations will make it illegal to continue to let buildings with 'F' & 'G' ratings from 1 April 2023.
Therefore, a change in a building's EPC rating, as a result of a new assessment, has the potential to prevent a building being let, therefore impacting its capital value.
Whilst existing EPCs undertaken with the old software remain valid, the change to the SBEM software has two other implications:
• The list of recommended measures to improve ratings accompanying old EPC reports may no longer be relevant or worse they may, in some circumstances, degrade a building's EPC rating when calculated using the new software
• For those acquiring or managing buildings the EPC ratings established using the old software may no longer be representative of how the building will perform when reassessed. This makes planning for long term compliance and asset management more difficult and represents a risk to building value.
Beeley said: "The government's decarbonisation strategy encourages buildings to move towards electric heating - ideally energy efficient heat pumps operated from a decarbonised electricity supply.
"Whilst an admirable aim, adoption of electric heating into occupied buildings presents numerous operational challenges. Whilst advantageous from a carbon and EPC perspective, the reality is electricity remains expensive on a unit basis.
"In addition, the practicalities and operating costs associated with electric heating are likely to be of increasing concern for existing or potential occupiers in the current climate and will need to be considered when making any decisions to switch away from gas.
"Given the fact that EPC ratings, minimum performance standards, Net Zero and energy price volatility are dominating the property agenda, this software change will impact investment assets, as well as any recommendations made to achieve compliance, secure rental income and maintain long term asset value."