Becky Fatemi, founder of Rokstone, Central London estate agents
Prime Central London is currently good value compared with regional rural prime locations across the UK.
From the unprecedented closure of the property sector in March 2020 through the most acute phase of the pandemic, prices in the luxury core of the capital fell up 20 to 30% on some properties.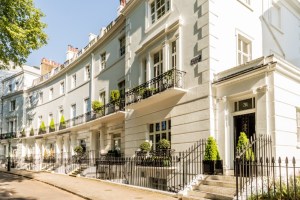 International buyers and investors were unable to enter the UK, overseas students fled and many high networth domestic families chose to relocate from London's traditional luxury stamping grounds (Knightsbridge, Belgravia, Kensington and Chelsea and Westminster) to leafy peripheral London villages such as Wimbledon, Richmond and Totteridge Green to buy more space and much bigger gardens. As a result values in such areas rocketed with families competing and many four-bedroom homes going to sealed bids.
Sales and therefore prices also leapt in rural prime Britain as people rebalanced their portfolio swapping the big house in London for a big house in the country. In some cases we even saw parents moving their children's schools. The Cotswolds, Cornwall and the more upmarket villages of the Home Counties were flooded with high end London buyers. This was the country market recovery that never came after the crash of 2008. While central London slumped, the rural property market took off.
However, and despite the uncertainty of Omicron, the Prime Central London cycle is starting again. Properties look good value compared to rural and international counterparts which is attracting investor buyers and Londonphiles once again.
For the emotional buyer, the opening up of what London does best – hospitality and culture – in the summer also drew them back in. But, deeply affected by the pandemic and lockdown, their priorities are changing. They want to be close to the action, they want beautifully finished, high quality homes, but they are now prioritising private gardens, resident-only London square gardens and their own front doors. They also want all luxury facilities within their home – such as wellbeing suites. As a result we are seeing heightened activity in Notting Hill and Holland Park, where there is a little more space.
While I do not expect to see a repeat of the ferocious recovery of inner London after the global financial crisis, momentum is building once again with analysts across the industry forecasting the fastest house price growth across the capital over the next five years to be in the heart of luxury London.
However, valuations remain conservative and those vendors who are too eagerly anticipating price rises will be disappointed. Currently PCL pricing is realigning and pricing strategies are complex. Buyers are still expecting a bargain.
Positive change, regeneration and upgraded transport links are also built into this steady recovery. Along with the continual rise in popularity of Notting Hill and Holland Park, another hotspot is Lancaster Gate. Right on the edge of Hyde Park it has some of London's best period architecture, leafy streets and square gardens but residents will also benefit from the newly overhauled Whiteley retail and residential complex on Queensway in Bayswater. The newly reopened Lancaster Gate underground station provides a rapid link into Paddington and the new Crossrail hub which will service Heathrow, the City and Canary Wharf in record time. We have a seven-bedroom, four-bathroom house for sale at £6.5 million on Bathurst Street and a three-bedroom, three-bathroom apartment on Hyde Park Gardens for £5,950,000.
Tottenham Court Road is another investor hotspot following years of regeneration and ongoing projects to green the streets, to create pocket parks and increase pedestrianisation around the statuesque Centrepoint development. We have a £1,295,000 investor apartment on the market between Tottenham Court Road and Covent Garden for sale too.
While the perfect family home with balconies and outside space is in high demand, flats present good value at the moment too. With 'mom and pop' landlords finding the tax burden too heavy and overseas students fleeing, the market was flooded with one- and two-bedroom flats for sale in PCL.
This suppressed price growth and we now expect sales to pick as those who have moved out of London realise they need a bolthole to be close to the office a few days a week. Office life has not and will not stop in London. The banks recalled their staff this September and huge office deals such as the new European Apple HQ moving into Battersea Power Station.