Some 5,940 households were threatened with homelessness in England via Section 21 between April and June 2022, rising by 76% year-on-year, government data shows.
To avoid more families being put on the streets, the housing charity Shelter reiterated its call for the government to ban Section 21 evictions, as well as unfreeze housing benefit to help tenants struggling to pay the rent.
Landlords tend to favour the Section 21 route because it can be a quicker process to carry out an eviction, taking two months, while they don't have to go through the courts when turfing out a tenant.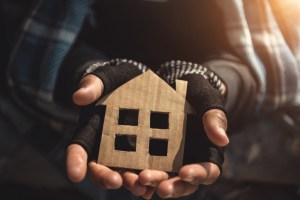 Polly Neate, chief executive of Shelter, said: "This winter is going to be brutal as the cost of living crisis goes from bad to worse, and the threat of rising rents and evictions loom large.
"Not a day goes by without our emergency helpline taking yet more calls from families who are being turfed out of their homes because of no-fault evictions. Many of these families won't be able to find another rental – and instead may spend a bleak winter trapped in emergency accommodation with nowhere to cook or eat a meal, let alone put up a Christmas tree.
"The government promised to ban no fault evictions, it must get on with the job and make the Renters' Reform Bill law. And to protect people from the threat of homelessness this winter, it must unfreeze housing benefit so families can pay their rent. In the meantime, Shelter's frontline advisers will do all they can to help as many people find or keep hold of a safe home."
There was a tenant eviction ban during the pandemic, which finally ended in May 2021.
To be classified as 'threatened with homelessness' by their council, a household must be at risk of losing their home in the next eight weeks.
This also means the council have a legal duty to help the household to either stay in their current home or to find somewhere new to live.
Shelter called on the public to support its frontline services who are working seven days a week to help people at risk of homelessness to find, or keep hold of, a safe home.