Some 3,405 households in the private rented sector were evicted by bailiffs in England between April and June 2022 – rising by 39% on the previous quarter.
Housing charity Shelter lamented that the total number of eviction proceedings is now back at pre-pandemic levels, before the eviction ban took effect.
The charity fears the situation will get worse. Previous government figures warned that in the first three months of the year a quarter (25%) of households were found to be either homeless or at risk of becoming homeless because of losing a private tenancy (18,210 households). This has increased by 94% in a year and is the second leading trigger of homelessness in England.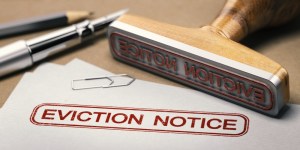 Polly Neate, chief executive of Shelter, said: "Today's figures paint a grim picture of households across England unable to keep their heads above water as the cost-of-living crisis bites. People who don't leave their home before the bailiff comes are the ones who have run out of options and have nowhere else to go.
"Every day our emergency helpline supports people having to make impossible choices between putting food on the table or paying their rent. Housing costs are people's biggest outgoing and those who have nothing left to cut back will soon be left with nowhere to call home.
"The government must urgently unfreeze housing benefit so it covers the true cost of renting before more families are evicted and pushed into homelessness. Whoever becomes the next Prime Minister needs to get a grip and put ending the housing emergency at the top of their to-do list."
Shelter found that with soaring costs across the board almost 2 in 3 (64%) private renters said the current economic climate meant that, if they were evicted, they'd struggle to afford the costs of moving.
With rising high rents, increasing bills and housing benefit frozen at 2020 levels, more renters are struggling to make ends meet, as Shelter called for the government to reverse the housing benefit freeze at 2020 levels so the benefit reflects real housing costs.