The average price of a four-bedroom chalet across 23 alpine markets increased by 5.8% in the year to June 2022, up from 4.6% a year earlier, Knight Frank has revealed in its annual Ski Property Report 2023.
Over the course of the pandemic the typical price of a prime property across the 23 French and Swiss resorts rose by 13.9%, though it's thought that house price inflation will slow down in the months ahead.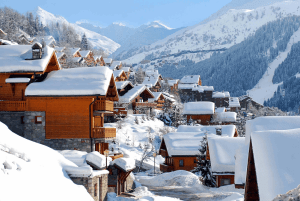 Kate Everett-Allen, head of global residential research at Knight Frank said: "We expect the exuberance in the alpine markets to cool in the next 12 months as economic headwinds start to weigh on buyer sentiment globally, prompting the rate of annual price growth to slow.
"However, in times of volatility and uncertainty the security of the Swiss Franc comes to the fore and we expect the value and accessibility of the French resorts will continue to be a key draw for buyers."
Swiss resorts outperformed their French counterparts for the second consecutive year, with prices up 7.1% on average compared to 4.3% in French resorts, the Swiss resorts of Crans-Montana and St Moritz lead the Index, both registering annual growth of 14% in the year to June 2022.
Verbier (8%) has seen strong transaction volumes in the last year which is pushing stock levels lower. Demand is truly global with enquiries from UK and US-based buyers notably strong last season.
Alex Koch de Gooreynd, head of Swiss sales for Knight Frank comments: "Crans-Montana, which saw muted activity prior to the Covid-19 crisis, has bounced back with its credentials as a year-round resort back in the spotlight.
"On the other hand, St Moritz's performance is attributable to a lack of stock in the face of strong demand - it remains the go-to resort for buyers from both Zurich and Milan. Plus, there are only few other resorts in the region that offer the same year-round appeal."
The Portes du Soleil resorts of Les Gets (11%) and Morzine (9%) lead the French rankings this year. Summer tourism in these resorts, featuring food and music festivals, combined with a surge in sporting events (trail running, MTB races, road cycling, hiking etc), are together helping to boost rental income for owners looking to capitalise on demand from a wider cohort of mountain lovers.
Roddy Aris, Knight Frank's head of sales in the French Alps said: "The performance in the French Alps is largely split by regions.
"Resorts in the Haute-Savoie region (Chamonix, Megève, Morzine, Les Gets) have performed well due to their proximity to Geneva Airport, their year-round appeal and their affordability.
"These three factors appeal to a new group of co-primary property hunters looking to make multiple trips a year. The Savoie resorts (Val d'Isère, Courchevel, Méribel) by comparison retain their cachet but with higher entry levels, they appeal to a smaller cohort of wealthy buyers seeking the best winter ski conditions."