A rogue landlord has been jailed after illegally evicting his tenant and former friend during the pandemic.
The landlord, Adil Lahmer, returned from Germany during the height of the pandemic in December 2020 and kicked out his tenant in order to quarantine at the Warrington house, the Liverpool Echo reports.
He changed the locks and chucked out the possessions of his tenant, Hadji Amani Bin Amani.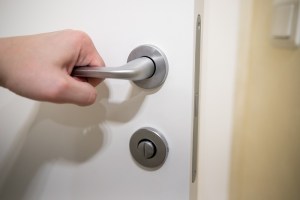 Lahmer was handed a 24-week prison term suspended for 18 months, while he was ordered to pay Bin Amani £500 in compensation and £1,000 in prosecution costs to Warrington Borough Council.
The pair were previously friends, as Bin Amani had a tenancy agreement with Lahmer and was previously a lodger in the landlords' home, dating back to 2017.
Recorder Leiper, the judge at Liverpool Crown Court, said: "He let his home to someone. He wanted to come back from Germany and had to put himself in quarantine.
"The only place he could do that apart from a hotel was the property and so he booted out the person he let it to and made him homeless, a person who was supposed to be his friend."
In mid-2020 Lahmer left for Germany and considered selling the house.
There was a plan for Bin Amani to rent the house with a view to later buying a property, as the tenant paid the council tax and energy bills. After the pair signed a tenancy agreement in October the tenant paid the rent for a number of months.
Indeed, Lahmer called him with the threat of eviction days after Bin Amani paid £500 for December's rent. The renter said he couldn't be forced to leave, so Lahmer took illegal action after denying the legitimacy of the tenancy agreement.
At court Bin Amani told of how his landlord's betrayal left him homeless and forced him to give up his job, as he called on Warrington Borough Council's emergency homelessness service for help.
He also said the situation derailed his higher education studies and deprived him of a place to host his children, who live nearby.
Lahmer initially told police there was no valid tenancy agreement and said Bin Amani was contributing towards utility bills informally. However he later pleaded guilty after accepting the tenancy agreement was legitimate.
Ryan Rothwell, prosecuting, said it should be "a feature of anyone's moral compass that they could not simply throw a tenant out on to the street".