The Irish Property Owners Association has spoken out about the legislation governing the private rented sector, calling it "flawed" and imbalanced.
Landlords with properties in Northern Ireland in 'Rent pressure zones' are limited in terms of how much they can charge. They can only up rents by 2% or the inflation rate, while rents can only been increased every 12 months.
Some tenancies in Northern Ireland are rent controlled, like protected tenancies and those that do not have a Certificate of Fitness. Meanwhile landlords cannot raise the rent if there's a fixed term agreement with the tenant.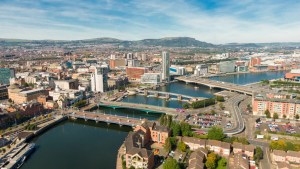 Margaret McCormick, information officer at the IPOA, told the Belfast Telegraph: "There's no mechanism to bring rents up that are substantially below market rate. There's no fairness in it.
"The legislation is flawed and not balanced in any way."
Landlords in Northern Ireland are also responsible for repairs to properties, as well as factors like the safety of gas and electrical appliances.
McCormick added: "There's no comparison between the commercial sector and the residential sector.
"None of the legislation, none of the responsibilities is on the landlord [in the commercial sector] to repair, maintain properties and standards, none of that is there.
"It is a completely different market that you are dealing with and if you do try to sell with a tenant in situ, it will limit it only to investors and the investor has to get an income from it that makes sense.
"The fear of that is leading people to leaving the market. We are looking at pensioners and people relying on income from their pension and that's why they need to be kept in the market.
"It's a dysfunctional market. The legislation is constantly changing around it. I counted, since 2009, there has been 88 statutory instruments on this legislation and there has been 21 changes in Acts.
"There is no confidence in stability in the market, the market is dysfunctional, it is constantly changing.
"There is nothing there that is going to keep a member in the market. And we need to keep property owners in the market."
"The legislation is flawed and not balanced in any way."
Landlords are leaving the market in droves, as the number departing has doubled year-on-year.
Pat Davitt, chief executive of the Institute of Professional Auctioneers and Valuers, blamed rent pressure zones on much of the problems.
He told the Belfast Telegraph: "The maintenance of quality accommodation is not economically justifiable where RPZ rules apply.
"The capital values of properties subject of the RPZ rules are dropping because a lot of properties are rented at well under market rent when landlords go to sell. They have to sell them at investment values.
"Non-institutional landlords leaving the market are often replaced by new properties at much higher rents and owned by institutional landlords."