The Bank of England has increased the base rate by 0.50% for the second successive month, bringing it to 2.25%.
The rate rise could have been steeper, as three members of the Bank's Monetary Policy Committee backed an increase of 0.75%.
This latest increase adds £600 a year or £49 per month to the typical cost of variable rate mortgages, though in some cases it could make things more expensive.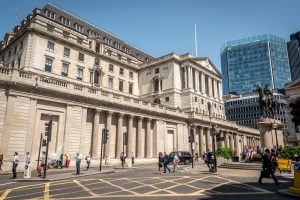 Mark Harris, chief executive of mortgage broker SPF Private Clients, said: "It means a borrower with a £300,000 variable-rate mortgage will have to find an extra £1,500 a year. With the energy price cap due to rise again at the beginning of October, some households will really struggle.
"However, we don't believe rates will or should go much beyond 3 per cent, despite fears that they could go higher. If the Bank of England were to hike interest rates to say 4 or 5 per cent, it risks causing greater problems than those it is attempting to control."
"Mortgage deals can be reserved up to six months before you need them so it may be worth securing a new product now which can be moved onto once your existing deal ends.
"We are being approached by many borrowers on fixed rates considering paying early redemption penalties in order to secure another fix sooner rather than later.
"This may or may not be in your best interests, depending on the rate and length of time left to run, so it is important to seek advice from a broker."
Explaining their decision, the MPC said inflationary risks outweighed the short-term dangers to the economy.
The Bank confirmed that the economy is now in recession, as it's set for a second consecutive quarter of falling output.
A 0.1% drop in gross domestic product is expected in Q3, after it dropped by 0.1% in Q2.
Tomer Aboody, director of property lender MT Finance, said: "With the trend in rising interest rates continuing, the property market is slowly showing signs of calming down from the frenzy of the past couple of years.
"With property values at record highs, a continuous upward curve in pricing isn't sustainable or helpful and the return of more realism is long overdue. However, with fewer buyers but also far fewer sellers, we are still seeing activity in the housing market, especially when it comes to prime assets.
"Could this be the perfect time for a restructure or change to stamp duty? As we saw during the pandemic, any change stimulates the market, allowing more sales and transactions. While a stamp duty holiday usually leads to an increase in prices, a big rise in values is unlikely due to the higher cost of living and restraints on affordability caused by rising interest rates."