Algarve-based Ombria Resort has seen 1,500 buyer enquiries since January, a third of which come from British residents wanting to take advantage of Portugal's Golden Visa program.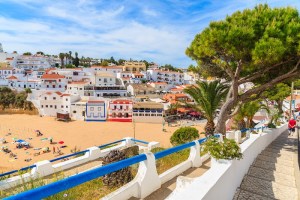 The market in Portugal appears to be making a strong recovery from the height of the pandemic, as its real estate market witnessed a 70% increase in sales from approximately 240 property transactions in 2020 to almost 400 in 2021.
The figures come from the Portuguese Resorts Market Report from Confidencial Imobiliário, a real estate market intelligence firm.
Portugal's 'Residency by Investment' programme enables buyers to live and work in the country, while after five years they can apply for citizenship providing they've spent seven to 14 days per year in the country.
Golden Visas - in particular those offering 'citizenship by investment', where buyers become citizens straight away, - is a controversial subject, as members of the European Parliament called for a ban on such schemes this year.
João Richard Costa, director of sales & marketing at Ombria Resort, said: "We are registering continuous growth in the number of British nationals who are eager to invest in a Golden Visa-eligible property to be able to spend as much time in Portugal, and the Schengen Area, as they wish without the 90/180-day limit since Brexit.
"We expect Portugal's recent step to fast-track UK travellers at its airports to be yet another contributing factor that will boost demand from UK house hunters.
"Since our sales launch in 2020, Golden Visa-linked purchases have increased from only two completed transactions in 2020 to seven sales in 2021. We anticipate these numbers to increase dramatically this year as we've seen an increase in enquiries from the UK of over 40% since the beginning of 2022."
At a market share of 51%, the area of Albufeira-Loulé has seen the majority of transactions, with British investors making up one of the largest international buyer demographics there at 42%.
Confirming the uptake of British buyers is Alex Koch de Gooreynd, partner at Knight Frank.
He said: "With a long love affair with the Algarve, British-based buyers continue to lead the way. Driven initially by the Golden Visa and the NHR tax scheme, these buyers are increasingly tempted by the low cost of living and the wonderful quality of life.
"The one big change we have seen is the increased demand for primary and co-primary homes rather than the traditional holiday purchase. British buyers today are embracing the post Covid new normal which allows people to work from anywhere."