House price growth shot up to 15.5% in the year to July, due to the distorting impact of the end of the stamp duty holiday at the end of last year.
This represents an increase from 7.8% in the year to June, and is the highest annual rate of inflation since 2003.
Average prices rose £6,000 between June and July – compared with a fall of £13,000 a year earlier.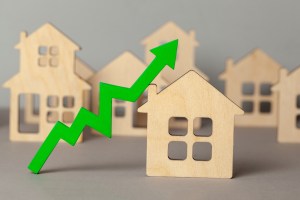 Sarah Coles, senior personal finance analyst, Hargreaves Lansdown, said: "This is the latest step in a house price Hokey Cokey, and is the result of changes to the stamp duty holiday last summer. It doesn't affect the outlook for the market, which is facing real challenges.
"Distortions from the end of the most generous period of the stamp duty holiday last June are playing an enormous role in price rises. There was a burst of demand last June, and people rushed to get sales over the line before the deadline – pushing prices up.
"As a result, we had a lull in July where prices fell back month-on-month and annual rises slowed to 7.1%. We'll see echoes of this through the next few months, as we get another bump and a dip from the end of the stamp duty holiday in September last year."
Tom Bill, head of UK residential research at Knight Frank, said: "The large jump in house prices recorded in July tells us more about how a stamp duty holiday can alter the course of the housing market than where prices are headed next.
"The new government's energy support package combined with record low unemployment will help oil the wheels of the property market but rising mortgage rates will ultimately curb the double-digit price growth seen over the last two years although we don't expect prices to fall.
"The government is effectively in pre-election mode and further tax cuts will benefit the housing market in the short-term. The risk is that fiscal largesse today means rates will eventually need to rise faster."