Liverpool is the UK's number one property hotspot based on price growth, rental yields, as well as potential for further growth in the years ahead. 
The Merseyside city has seen five year price inflation of 40% as well as annual growth of 14%, outperforming Leeds (7.4%), Birmingham (7.0%), Manchester (6.7%) and London (5.1%).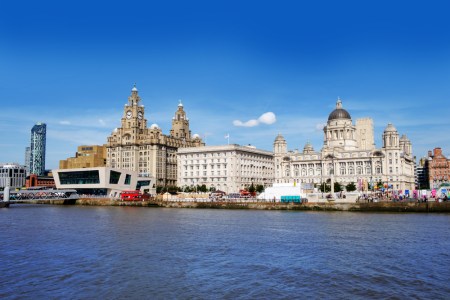 Liverpool has lower 10 year price growth (51%) than London (78.6%) and Manchester (79.6%), Birmingham (60.4%) and Leeds (57.9%), which the report said indicates that the city is in the growth phase of the evolutionary cycle of the city.
The analysis comes from Liverpool: A Northern Powerhouse, Dockside Regeneration Property Report, commissioned by London's Beauchamp Estates Liverpool's Logic Estates, with analysis by Dataloft.
The city's Stanley Dock area has seen extensive redevelopment as part of the city's £14bn regeneration boom.
The Titanic Hotel opened in 2014, while Everton football club's new stadium will open in 2023, as well as a new ferry terminal.
Other development projects in Liverpool include the redevelopment of the Ten Streets into the city's creative quarter and the proposed new Central Park.
Key regeneration hubs in the city include The Stanley Dock Complex, Liverpool Waters, The Ten Streets and Bramley Moore Dock.
Some housing developments are sizable, as homes at Tobacco Warehouse, Liverpool's largest listed building in Stanley Dock, are seen as attractive due to their size.
The natural boundaries and architectural barriers afforded by the historic structure have resulted in apartments that are considerably larger than even the upper average of comparable homes, with some the size of a three-bedroom house.
Paul Finch, head of new homes at Beauchamp Estates, said: "The city-wide investment, both in regeneration and infrastructure, is driving economic growth, with the waterside activity creating a highly desirable residential and leisure destination. Our latest report reveals the momentum that the residential property market is gaining and the city's top performance, particularly in prime waterside.
"The success of Tobacco Warehouse, which is more than 50% sold in phase one, shows clearly the appetite for and appeal of premium homes in a waterside location, both within the local and wider market. Projects like that at Bramley Moore Dock and the Ten Streets move forward and further phases of Stanley Dock complete interest and demand will rise further."
Liverpool apartments are 60% cheaper in £ per sq ft than their counterparts in London; with £1.5 million allowing a buyer to purchase one apartment in Prime Central London, two in London's Docklands or five/six apartments in Liverpool.
Properties sold in Liverpool average £237 per sqft, and average £280 per sqft for premium new homes.
This compares to £678 per sqft for London, or £802 psf for premium units.
Waterfront/waterside homes in most locations come at a price premium above the market average and Liverpool is no exception.
However, its premium waterside homes are some 65% less per square foot than comparable London homes and 30% less than Manchester, with premium waterside apartments in Liverpool (those in the top 25% of sales £/sq ft) comparable in price to an average apartment in Manchester and Birmingham and at only a slight premium to Leeds.
Liverpool waterfront property has outperformed the wider Liverpool market for rentals since 2017, when the regeneration of the city centre and waterfront gathered momentum. Rental yields in Liverpool (average 6.4%) are currently comparable to other regional cities: almost on par with Leeds, slightly above Manchester and Birmingham, and considerably higher than London.
Liverpool yields are 6% for a 1 bed and 6.5% for a 2 bed apartment; compared to equivalent figures of 4.5% (1 bed) and 4.5% (2 bed) for London; 6.3% (1 bed) and 5% (2 bed) for Manchester and 5.4% (1 bed) and 5.2% (2 bed) for Birmingham.
Residential property in the city has outperformed the UK, London and North West regional averages for the past year and five years: Liverpool 14.0% (1 year) and 40.1% (5 years); UK 10.0% & 25.8%; London 5.1% & 10.4%; and North West 10.8% & 32.1%.
Nick Goldsworthy, co-owner of Logic Estate Agents, said: "The city's rich past, architectural legacies and maritime history all combine to create a unique and vibrant city, which is returning to form. The creation of homes like those at Tobacco Warehouse in Stanley Dock have been a game changer in the local market, offering homes of a size that are rarely available, in a completely unique setting, close to the city centre.
"Buyers and tenants are excited to be part of the regeneration of such a unique location and to be living in what is rapidly becoming one of Liverpool's most desirable locations."
Over the past five years Liverpool has seen a 44% increase in its population aged 19-30 (some 30,000 per annum moving to the city), compared to 42% rise for Manchester, 19% for Birmingham and a -7% outgoing figure for London.
With Liverpool named one of the top five most improved/best performing economic partnerships across the UK (UKCI, 2021) and currently the UK's top area for start-ups, scale ups and 'Unicorns' (new businesses that are valued at more than $1 billion and are privately owned), the city's growth and popularity is likely to continue.