Scotland's best-performing property market is located in Argyll & Bute, a western region where house prices have risen by 25% in a year to average at £206,735, research from estate agent comparison site GetAgent.co.uk has revealed.
In West Lothian, situated between Glasgow and Edinburgh, agents are currently achieving prices 15.7% higher than last year, with the average price rising from £189,322 to £219,002.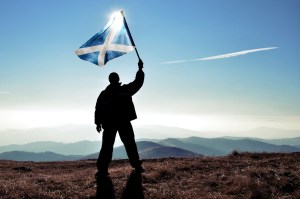 Prices in Dumfries & Galloway have increased by 12.9% to create a current average of £165,011, while East Dunbartonshire (12.6%), North Ayrshire (12.5%), and East Ayrshire (12.2%) have also performed well.
The worst performing market in the past year is the City of Aberdeen, where prices have decreased by -2.4%, falling from £148,697 to £145,153.
While this is the only area to see negative growth, growth has also been relatively slow in Aberdeenshire (1.9%), Clackmannanshire (4.3%), and Edinburgh (6.8%).
Colby Short, chief executive and co-founder of GetAgent.co.uk, said: "The Scottish housing market has been thriving in recent years and the widespread annual price rises displayed in this data are proof of that.
"With ten regions showing price rises of 11% or more, it's clear that the appetite for Scottish homes is high.
Scottish homes are not only attracting existing Scottish residents but also a large swathe of buyers who are looking to move to the country from other parts of Britain, not least England.
"Such buyers are being drawn by the lifestyle that Scotland offers, the relatively affordable house prices, and, perhaps, the potential for the country to gain full independence and reinsert itself as a member of the European Union."
Where are Scotland's busiest agents?
Across seven major Scottish cities, there are 1,421 estate agents and 32,951 property listings. This means each agent is currently handling an estimated 23.2 listings each.
On this basis, Scotland's busiest agents are located in Glasgow. The city has 448 agents and 6,890 current listings which equates to 15.4 properties per agent.
In Edinburgh, 260 agents and 3,298 listings means each agent is handling 12.7 properties, while agents in Inverness (6.7), Aberdeen (6.5), Dundee (6.0), Perth (5.3), and Stirling (2.1) have relatively lighter workloads.